Clarksons is a Kiwi company with a proud history spanning more than 20 years.
Founded by Terry Clarkson in 1997, we've grown to have 7 offices spread out across the country in both the North and South Island. Terry, who began his electrical career in 1963, established the organisation because of his passion for people, and an ethos of wanting to run a family business that cared about its staff and customers. These values have never been compromised over the years, and they are what underpin the entire business today.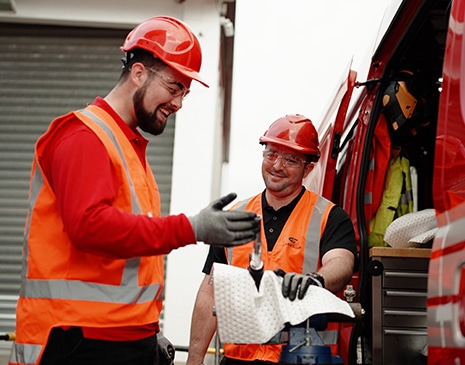 We are a passionate team with a great team culture. All our staff are supported to learn and progress to realise their potential. That means treating each other like family, sharing our knowledge, enjoying what we do, and celebrating together.
With a solid reputation in electrical, property maintenance, and fuels for a variety of commercial and industrial sector clients, we keep our promises and stay true to our grassroots. We're proud to be known in the business community for our honesty, communications, excellent service delivery and down to earth team. Despite our national footprint, we're still local at heart.
Our services include maintenance and servicing across electrical, fuels, and building maintenance and 24-hour call-out for those mission critical and environmental issues.
Working on fuel stations, aviation sites, commercial and industrial buildings, and in explosive environments, is what we do. Clarksons has tomorrow's solutions today.
On a brisk July evening in 1997, one Kiwi family huddled around their lounge floor eating fish and chips off the paper while picking out the logo and colours for Dad's new business venture.
Starting with a single location in Auckland, a passion for people and an ethos of caring about staff and customers, Clarksons grew to cover the country and expand into other areas such as property maintenance and fuel. 
Today, after more than two decades, those plans made in that simple moment in the family lounge stand strong in the form of Clarksons – an iconic New Zealand electrical company with Dad - Terry, and son - David, still steadying the ship and pushing it into the future.
Photo right: Original Team Photo 1997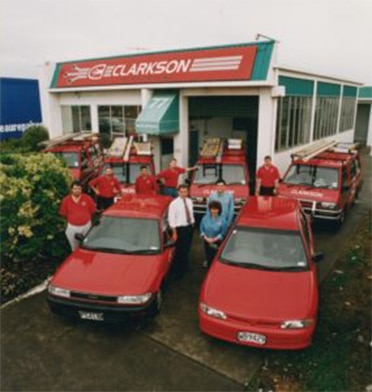 Clarksons is proud to support a number of community initiatives including:
MENZSHED - Terry Clarkson has been involved in this initiative, helping get the Men's Shed in Hibiscus Coast built. Clarksons also installed the power and switchboard for free.
Massey Rugby Club Junior Team Sponsor
UHCF Team Sponsor
The safety of everyone is our top priority at Clarksons. It all comes down to three words: "Nobody Gets Hurt". For years, we've been leaders in this space and can satisfy our clients' demands for high health and safety compliance.
We have a dedicated HSE team, extensive Health and Safety training, systems, and policies in place, and every manager and supervisor carries out monthly on-site safety observations. We also conform with the internationally recognised Loss Prevention System (LPS).
Clarksons use a cloud-based HSE management system provided and hosted by Damstra Technology to ensure we are following best practices for the receipt, storage, and use of HSE information. Our workers can report incidents and near misses directly into the system from their phone or tablet using an app, with notifications immediately sent to specified people. Staff can also use these apps to carry out various audits and inspections.
External Accreditation and Membership
Clarksons belong to a number of HSE management systems that have reviewed our policies, systems, and practices. These include:
SiteWise (achieving a Gold Level rating with a score of 97%)
Impact Prequal (achieving a score of 85%)
CM3
ISN
Avetta
Waikato Local Authority Shared Services managed by SHE PreQual
Clarksons also belong to a number of professional associations that ensure we are kept up-to-date, follow best practices, and all staff are trained on-site safety. These include:
New Zealand Institute of Safety Management (NZISM)

Clarksons is a Corporate Supporter member
Two of our staff are Affiliate Members

Site Safe
Terry founded Clarkson Electrical (now Clarksons) in 1997 after beginning his electrical career in 1963. He is a registered Electrical Inspector and a Hazardous Area specialist.
Since David was promoted to Managing Director, Terry has become the Technical Expert in the business. He has an open door policy for all staff and customers of Clarksons.
Throughout his career, Terry has been involved in a wide range of positions from Registered Electrician, Chief Electrician, Branch Manager, and General Manager. He has a vast breadth of knowledge and expertise in a wide range of applications from Domestic, Industrial and Commercial.
One of the main reasons Terry founded the company was his passion for customers and the ethos of running a family business that cares about its people and customers. These values are still core to the business today.
With Clarksons, Terry has achieved substantial work for Mobil Oil, Gull Petroleum, Auckland Airport and New Zealand Steel. He is a member of the Electrical Safety Organisation Inc and Institute of Electricians and has been Auckland President for the Electrical Contractors Association.
Terry's interests are rugby, family and Triumph Stags!
David Clarkson Managing Director
Since joining Clarksons in 1997 after beginning his electrical apprenticeship in 1993. He has held a number of roles at Clarksons including Registered Electrician, Contracts Manager, Operations Manager, General Manager, and now Managing Director.
David works on the general direction of Clarksons. His breadth of experience in the Electrical industry and technical expertise in general Electrical, Hazardous Areas, and Air-conditioning is of great benefit to the business. He is very focused on training and development opportunities for all Clarksons staff and contractors.
David is a qualified Electrical Inspector and also a Work Task Assessor for apprentices in the National Certificate in Electrical Engineering. He holds an MBA from Auckland University.
David's main interests are spending time with his young family and friends.
Gary Flynn General Manager
Gary took the role of General Manager with Clarksons in 2018, however prior to this, he had managed Clarksons' largest client (BGIS) for almost 9 years and witnessed the company's growth and success over many years.
Most recently, Gary led the Service Business for Honeywell New Zealand where he was responsible for Security, Fire, Power and Building Management Systems nationwide.
Before Honeywell New Zealand, Gary was business manager for BGIS where he was responsible for Facilities, Projects, and Construction management across 122 retail service stations across NZ. He has also been an Operations Manager and Project Manager in the same industry, managing many projects and programs through Clarksons.
He holds a National Diploma in Construction and previously studied Management and Design for Construction at university, after which he completed a comprehensive management training programme for a major UK food retailer.
Gary is a craft beer enthusiast who brews his own beer which is on tap in his man cave. He also tries to keep fit and used to love to overseas travel - damn you Covid 19.
Jeff Brunton Health & Safety Manager
With over 20 years' experience in the Electrical industry, Jeff initially joined Clarksons in 2012 as Branch Manager of Christchurch before taking on the role of Health & Safety Manager in 2015.
Prior to joining Clarksons, Jeff was a Hub Manager at Fuelquip NZ (ECL Group) managing 5 depots throughout the South Island providing maintenance and repair services to the Fuels industry. Before that, he worked at Johnson Controls as NZ Operations Manager.
Jeff brings a wealth of technical expertise and management experience from various industries including Electrical, Fuels, and Telecommunications.
While working at Streat Electrical as a commercial electrician in the 1980's, he took time off the tools to develop procedures and write manuals that lead to Streat Electrical gaining ISO9001 accreditation.
He completed his electrical apprenticeship at the Marlborough Electric Power Board in 1984.
Robyn Mitchell Financial Controller
Robyn joined Clarksons in 2017 as Financial Controller. With over 25 years' experience, she has a broad range of skills in accounting and management of medium-sized businesses.
She has held several senior roles in the Chartered Accounting and industry sectors including Construction, Retail, and Real Estate.
Robyn qualified as a Chartered Accountant with Peat Marwick (KPMG) in Auckland.
A self-proclaimed foodie, her particular strengths are in the preparation of budgets, cashflows, and monthly monitoring of financial statements.
Craig Pratt Design and Estimating Manager
Craig joined Clarksons in 2003 initially as the Switch Board Supervisor overseeing the design, manufacture and installation of commercial switchboards. He was very quickly promoted to Contracts Manager to oversee large projects for Clarksons including Drinkrow Industrial Estates.
In 2008, Craig was made Design and Estimate Manager in recognition for his specialist skills in the area of Commercial Design and Estimating and recent qualification as an Electrical Inspector.
Craig entered the Electrical Industry as an apprentice in 1973 after leaving school. Before Clarksons, Craig worked at Dickson Grey Electrical for 30 years in a variety of roles including Electrician, Service Manager and Contracts Manager. He mainly specialized in Commercial and Industrial, with large projects undertaken with construction company Hayden & Rollet.
Craig's main interests are sport - particularly rugby - and family.
One Number, One Company - Nationwide
Whether it's electrical, property maintenance or fuels, we'd love to help.
Give us a call 24 hours a day, 365 days a year on 0800 363 080